During the first week of April I was in several root pits in northwest Indiana and boy did we find plenty of interesting factoids! I was assisted by Eileen Kladivko from Purdue University on one day and Barry Fisher, Indiana NRCS State Agronomist, on another day.
What We Found in the Cover Crop Root Pits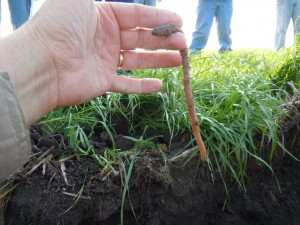 Earthworms galore, especially where we had radishes and/or crimson clover. But the earthworms were plentiful in all cover crop species.
Earthworm channels 48″ deep in a field that had been long term no-till with one year of cover crop annual ryegrass/radish mix (planted after soybeans).
Roots from two different  crops in the same root zone/earthworm channel (soybeans and cover crop roots) over 30″ deep.
Earthworm eggs where radishes had decayed.
Soybean nodules 26″ deep on roots that went 44″ deep (long term no-till field – 10 years).
Annual ryegrass roots that were not as deep following corn as they were following soybeans (less N available for them to grow as vigorously).
Canola or oilseed rape in fields where bin run oats had been planted instead of seed oats.
Continued evidence of compaction. One year of cover crops does not eliminate all compaction issues (though roots from cover crops did penetrate through the compaction).
Radish and radish roots that were 34″ deep last fall were found at 40″ deep this spring (though dead).
Living radishes. Several radishes survived the Indiana winter (very mild winter), especially where they were protected by crimson clover and annual ryegrass.
20 earthworm channels and 5 earthworms in an area 8″ by 8″ square at 6 inches deep (in a mixture of annual ryegrass, crimson clover, and cover crop radishes).
700 acres of oats and radishes looking very different in the spring than it did in the fall!  (Click the links to see the different videos)
Miscellaneous Notes from the Cover Crop Root Pits
The farmer from our first cover crop root pit dig on April 4th reported that he saw less visible drought stress where they had long term no-till and cover crops, attributing the healthier plants to increased root depth.
We saw several fields of cereal rye after corn stalks being grazed by beef cattle.
Barry Fisher encouraged everyone to "expand your farm vertically." In other words, don't just keep buying/renting more land. Instead, put cover crop roots down deeper to create better land where you farm – and get more yield.
Be sure to control your annual ryegrass instead of waiting on the crimson clover to grow taller.  Much of the ryegrass was 10-12″ tall with the crimson clover at 6-8″ tall.
Farmers are becoming more creative with cover crop applications and types, and they are finding success – not surprising!