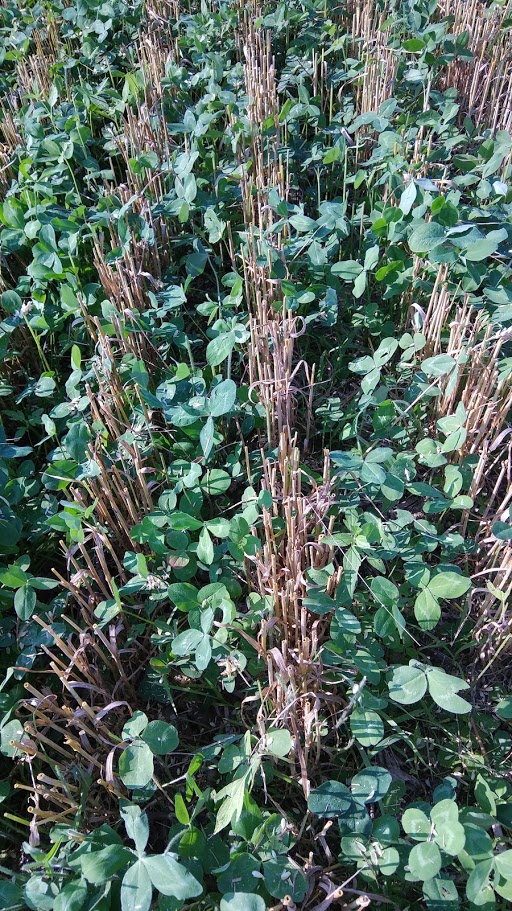 December 28, 2020
by Dustin Johnson
I recently plowed under a successful stand of red clover in an organic wheat field on my farm near Kokomo, Indiana. I have grown alfalfa and mixed stands of hay as a cash crop for my entire career. Five years ago we began experimenting with organic grain production to try something new and take advantage of the synergies between organic grain farming and our existing hay business.
This was my first experience growing a pure stand of red clover. The main goal for the stand was nitrogen fixation for next year's organic corn crop.
Along the way, I also gained a forage harvest, weed suppression, and soil health benefits. Please read further for a more in-depth discussion of my experience and the benefits that this time-proven practice can bring to your farm.
FROST SEEDING
On February 21st, I broadcasted 15 lbs/acre of red clover seed into my dormant wheat field. Frost seeding should take place near the end of winter when a period of nightly freezing and thawing is anticipated. The ground was frozen enough to hold up the tractor and the field contained a light dusting of snow. This helped me see the spread pattern of the clover seed.
Red clover is my personal first-choice when frost seeding: The seed is relatively inexpensive, clover can thrive underneath a crop canopy, it can be harvested for dry hay, and it works! Red clover seeds are heavy and round with a high level of seedling vigor. They naturally sort through material on top of the soil and fall into the "honeycomb" of soil cracks created by frost. This is the same process by which red clover stands naturally persist on road sides and barn lots.
If grazing is your primary goal, plant an improved species such as Bearcat or Gallant. White and berseem clover can also be successfully frost seeded for forage use. If you plan to exclusively grow it as a cover crop, sweetclover and mammoth red clover are also good choices.
Around the time my wheat broke dormancy, the red clover seedlings emerged. The frost seeded clover scavenged sunlight that filtered through the rows of wheat, but grew more slowly than the wheat and stayed beneath the wheat canopy. The presence of red clover in the wheat field did not interfere with the wheat's ability to grow or be harvested. From the road, the wheat looked like a normal wheat field. Only after harvest was a carpet of green growing clover revealed.
FORAGE HARVEST
Once the wheat was harvested and the canopy opened to the red clover, it grew very quickly. I mowed the red clover for hay about a month after wheat harvest on August 19th. The clover was nearing full-bloom and the weather was right. The hay was mostly red clover, but also contained a few weeds and about 4" of wheat stubble. This medium-quality hay was the most fragrant, sweet-smelling hay that I have ever baled! Yield was also impressive: 2.3 dry tons/acre in a single harvest. Even priced modestly, this hay harvest was a significant boost to the profitability of my wheat crop.
COVER CROP VALUE
After taking a cutting of hay in August, I let the summer regrowth accumulate for a green manure to plow down. The regrowth was vigorous and thick. Weeds that had been present in the growing wheat were mowed before going to seed by the wheat and hay harvests. Newly germinated weeds could not compete with the established red clover. This certified organic field was nearly weed-free in late summer.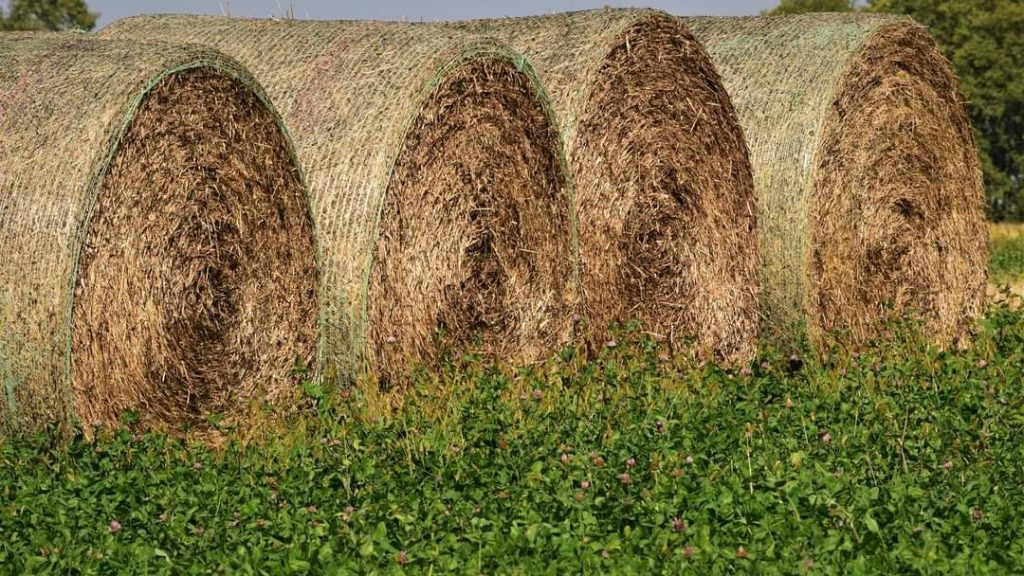 The clover bloomed again in September and was a haven for wildlife and pollinators.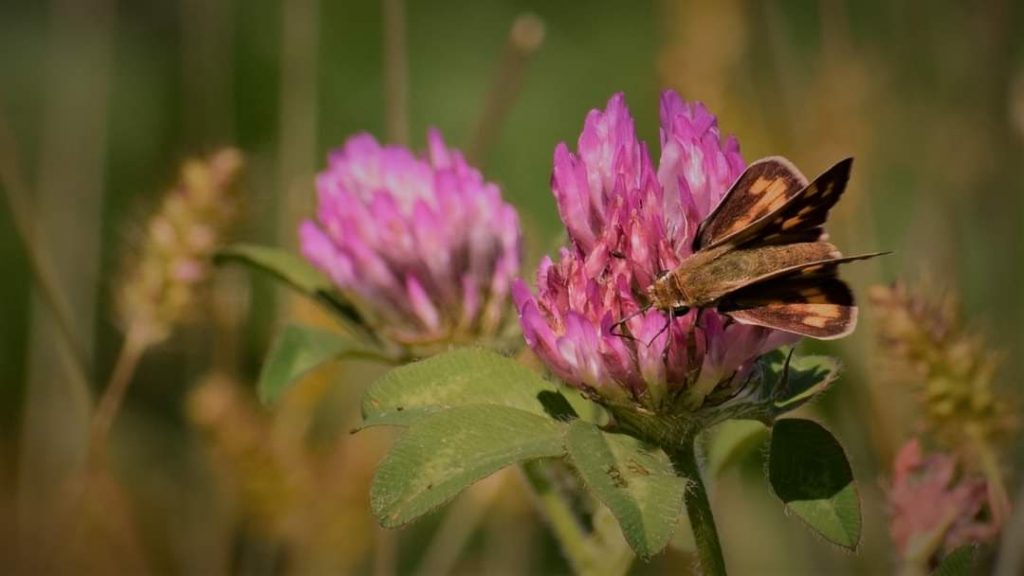 In early December, I moldboard plowed this land and the red clover again showed its value. The clover was still actively growing and removing water from the soil. Areas of the field that did not have a good stand of clover were noticeably wetter. The clover taproots penetrated the plowing depth and prevented the wetter clay soils from "slabbing." The pictures below show the loose friable soil created by the clover roots compared to an area of shallow-rooted grass sod plowed at the field edge.
Note the difference in the above plowed soil (with clover) vs. the soil below (no clover).
Those same roots will provide a soil health benefit below the plow layer as well. The clover taproots penetrated the soil much deeper than the plowing depth. The roots will help prevent a plow pan from holding water when they decompose this winter and drainage occurs in the old root channels.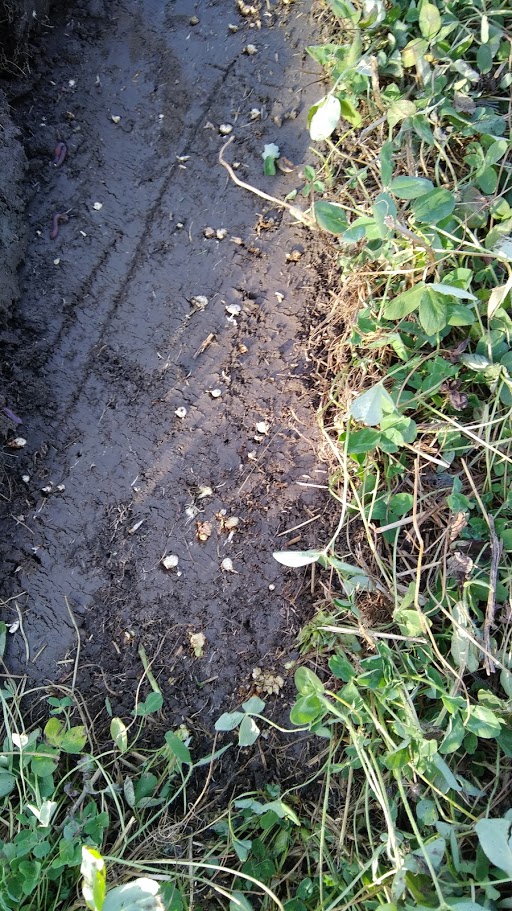 The red clover has now begun to decompose within the soil profile and will be releasing nitrogen for my organic corn crop next spring. University sources estimate that a successful stand of red clover that is terminated after blooming can release 70 to 120 lbs of N per acre.
Now is the time to make preparations for frost seeding clover on your farm. Whether your goal is nitrogen fixation, improved pasture quality, or soil health, frost seeding clover this winter is an easy and cost-effective way to achieve big results.