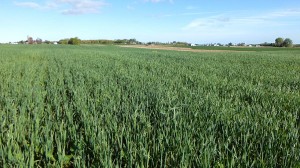 I took a new management position in May of 2012 with Wisconsin based Legacy Seeds, Inc.
While my main responsibility lies in working with alfalfa and forages I also was pleased to find out that there were several folks in Wisconsin that were using cover crops!  Well, you would figure that I'd get involved more with cover crops in the Badger state, and I have.
Wisconsin Cover Crop Meetings
In February 2012 I conducted two cover crops meetings in the Fox Lake, WI area with over 75 producers present. The purpose of these meetings were to teach farmers about how cover crops can work in their farming operations.  I was very pleased with the outcome of those meetings as over 10,000 acres were planted on farms that were represented at those meetings.
In July I held three more cover crop meetings in Eau Claire, Waupaca, and Brillion, WI. All combined, there were over 150 farmers present and I'm confident that there were at least 30,000 acres of cover crops planted by those farmers.
While I don't have figures of how many cover crops were planted in Wisconsin, I think there were as many as 250,000. Many of those acres were after wheat was harvested and a surprising number after corn and soybeans.
Cover Crops for Forage & Manure Management
Feed was one reason so many acres were planted. The severe drought has created a forage shortage.
But many farmers planted their cover crops because they want healthier soils and better production.  Still others planted because they want to hold onto the nutrients from their manure.  Whatever the reason, cover cropping is alive and well in Wisconsin – and growing.
You can click on the pictures below to see a larger image of each.