The Midwest Cover Crop Council (MCCC) has added different states and cropping systems to their useful cover crop selection tool.  This tool is a very helpful item that assists producers in choosing what cover crops can be used in their counties with their cropping systems and their choice of cover crop characteristics.
Most recently Michigan  State and the MCCC released a tool to help vegetable producers determine what cover crops will work best in their systems and for the attributes they desire.  As I understand it, there will soon be a similar tool for Wisconsin vegetable farmers.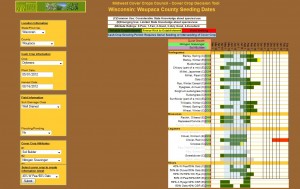 Wisconsin row crop farmers do have a cover crop selector tool that has been added within the past few months.
If you are looking for an additional way to check out different cover crop species then click here.  And you can check on most of the common species used for cover crops in the Midwest by checking out the many blog posts on www.plantcovercrops.com.