Helping Professional Farmers Grow Their Business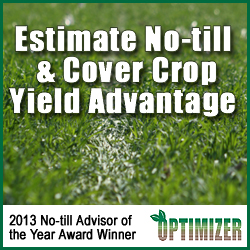 Advanced Ag Solutions is passionate not just about farming, but farming well. Daryl Starr, owner and operator, founded this business with the idea of taking what he had learned on his family farm, advancing those concepts, and then applying his knowledge to other like-minded farmers. His system revolves around intensive agronomic data management.
And along the way he has become a great friend to no-tillers and cover croppers alike.  Daryl was actually the first person to guest-post on this blog. In that article, he shared  a strategy of mapping cover crops. With his innovation, it's not surprising that Daryl was recently honored at the 2013 National No-Till Conference with the "No-Till Innovator's Award."
Here is the excerpt from No-Till Farmer:
Daryl Starr of Advanced Ag Solutions LLC in Lafayette, Ind., was first introduced to no-till when his father converted to a continuous no-till system in the early 1990s.

Starr consults for clients on about 350,000 acres, half of which are committed to a continuous no-till system and most have at least some no-till or conservation-till in their operations.

The business was founded in 2006 and targets high-tech, no-till farmers as clients. Starr focuses on gathering data to help clients continuously improve their operations, and 90 percent of the research conducted is from on-farm research in no-till systems. He won the Precision Ag Entrepreneur of the Year in 2012 and earned the River Friendly Farmer Award while farming with his father. Looking to the future, Starr has plans to expand his partnerships by looking for advisors in other geographies interested in collaborating to enhance no-till systems.
I've spoken at some of Advanced Ag Solutions networking meetings about the value of cover crops. What I've noticed most is their passion for soil health and best management practices.
Daryl is not only my first guest-blogger, he's also my first blog sponsor. You can see his Optimizer ad on the far right sidebar. Feel free to click through out the services Daryl offers.
Below is a photo of Daryl receiving his award. Congratulations and THANKS to Advanced Ag Solutions!
You can also catch up with Advanced Ag Solutions on Facebook, Twitter, YouTube and Linked In.