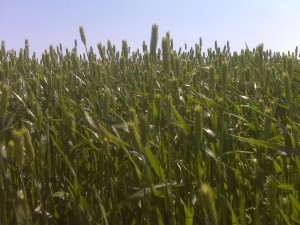 Winter Barley makes a great cover crop. In fact, in many regions Winter Barley is now being used successfully as a cover crop.  Newer winterhardy varieties make Winter Barley much more viable to use in the colder regions of the upper-Midwest.  Winter Barley performs better on poorer soils than many other cereal grains and its early maturity and forage quality make it a top choice for dairy farmers following corn silage and subsequent manure applications.  Winter Barley is not as "tough" as Winter Cereal Rye under traffic or late planting dates; however it is considerably improved over rye for forage and grain production.
Advantages of Winter Barley
Makes excellent feed or haylage
Up to 2 weeks earlier harvest than wheat
Less N needed for top crop
Excellent scavenger of N
More tolerant of low fertility
Excellent drought tolerance
Exceptional erosion control
Excellent weed suppression
Disadvantages of Winter Barley
Somewhat less winterhardy than rye
Less traffic tolerant than rye
Plant Winter Barley at 2 bushels/acre for cover/grain; 3 bushels/acre for cover/baleage.