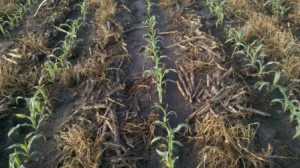 Cover Crops: Will I Get a Return on Investment
Over the past two months my brother Don Robison and I have had opportunities in Indiana, Iowa, and Wisconsin to share a presentation entitled "Return On Investment from Cover Crops."  I will do the same in Ontario and Michigan over the next few weeks.
Sarah Carlson from Practical Farmers of Iowa told me that after Joel Gruver and I spoke in Iowa that farmers were leaving the presentation room excited and ready to plant more cover crops in 2013.  That gets me excited!
However, do cover crops always show extra profit for every producer in every field?  The answer is "no."
In a previous post I shared data, along with the other interesting benefits, that we found in our long-term no-tilled soil – compared to the same soil with cover crop plots.
However, the real reason we did the research was to find out if we could be even more profitable when using cover crops with no-till instead of just long-term no-till.  What we found was a significant increase in profitability in each of our plots in 2012.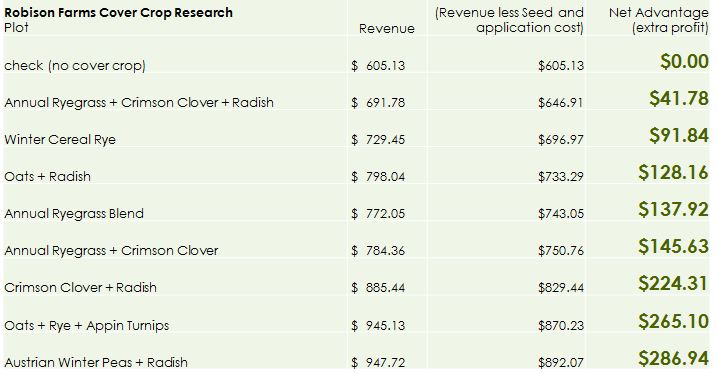 The net revenue on each cover crop species or mix was considerable on our farm in 2012.  We used $5.75/bushel as the value of our corn.
The "worst" profit improvement was $41.78/acre and the "best" was $286.94/acre – impressive figures.
However, we did see additional benefits that may not always add this kind of improved profit:
increased earthworm activity
improved root mass and root depth
improved water infiltration
improved plant health
But these may not always add profit.
Other  $uccess Stories
Since the inception of Plant Cover Crops.com, many farmers I've gotten to know have had increased yields and profits.  Dave from Central Indiana has had very good success with improved profitability and improved soils.  Dave, from NW Ohio, has seen improved yields and profits following cover crops most years.
Others like Dan DeSutter, Rodney Rulon, Terry Taylor, Cameron Mills, and Larry Bonnell have had great success and continue to use cover crops more and more while refining their systems to fit their needs and management practices.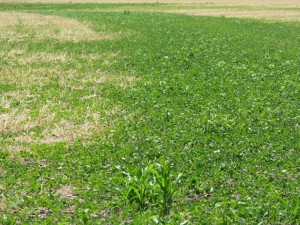 Cover Crop Disappointments
As I said earlier, not every farmer will have success with cover crops every time.
Bob Ormiston,  from NW Indiana, recently e-mailed me about his 2012 experience.
Last year we had three fields of cereal rye which we sprayed about the time the rye was starting to head.  In two of the fields, we had worked new tile lines to level the ground and wiped out the cereal rye.  There was an enormous difference in the quality of the bean stand, and the no-rye tilled beans were significantly taller than the beans planted into the rye.  I think it is fair to say that in 2 of the 3 fields we took a 5-10 bpa yield hit because of the cereal rye.  The problem was very likely compounded by the crazy dry and hot weather.  The field with the best stand made 58 bpa.  The other two around 49.
Bob later commented,
The beans in the worked areas of the cereal rye had a much better stand and throughout most of the growing season they were taller.  They were all drilled with a JD no-till drill.  The rye was around 20 inches tall and starting to head.  The beans were planted about 1.25 inches deep.  Weed control was excellent and both glyphosate and Extreme were utilized.  To reiterate, I felt the perceived yield loss in 2 of our 3 bean fields was a direct result of the drought and high temps.  The 78 acre field that yielded 58 bpa received substantially more rain and generally had a much better stand than the other 2 fields.

Tom Burlingham from Wisconsin notes,
›Neighbors plot had 10 bu less corn per acre where there was radish cover after 2011 wheat. 75 vs 65. Three strip trial with UW Ext. (Under exceptionally dry conditions.)
Multi-Year Research from Iowa
A three year study done by Practical Farmers of Iowa has shown both improved yields AND also yield loss when following winter cereal rye with corn and soybeans. It is important to note that when yield was lost it was sometimes a failure to control the cover crop adequately.  However, that was not always the case – their 2010 corn yield following winter cereal rye was negatively impacted in each of their locations.
Conclusions
While cover crops have been the "hot topic" over the past 3-4 years we still have a lot to learn.
Some experienced cover croppers may scoff at losing yield and claim it is because only one species was used as a cover crop – that we all need to use "cocktail mixes."
Others may say that using one species is all they are comfortable with managing.
Both groups might be correct in their thinking.  But each individual farmer must make his own choice of what he can deal with (or wants to deal with).  Bob Ormiston is investigating using Hairy Vetch and Crimson Clover with a grass mixture in 2013 before his 2014 corn crop.  My brother, Dad, and I are looking to do straight winter cereal rye before all of our soybeans in 2014.
Whatever choice a producer makes should always have a goal of improving the soil health.  If the soil is healthier, then usually a better, more profitable crop will follow.  But it does not always happen that way.  Like many things in life, patience and best management practices usually pay off – and most likely will always pay off in the long run.
I'm interested to hear about your experiences using cover crops. Have you seen a benefit? Have you struggled? You can share your thoughts below in the comment section or send me an email.