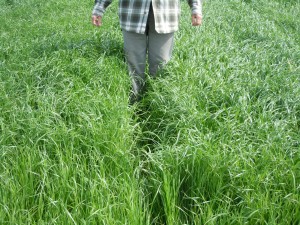 It's May 7, 2011. I received five phone calls yesterday from farmers that have wet fields…flooded fields, and knee high annual ryegrass and winter rye.  The question from all five can be summed up as "I wanted to kill my cover crop earlier but it was too cold, now it's too wet; this stuff is growing like crazy…what should I do now?"
Again, I will tell you that I am NOT a chemical expert.  However, I get to rub shoulders with guys that do lots of spraying that have had very, very good success killing ryegrass over the past few years.  One of the gentlemen that I trust (because I've seen his very good work) is Chris Nuest, who works for CFS at Winamac.  He has done the spraying at Four L Farms where we saw a total of four escapes on ARg last season (on 200+ acres).  Chris told me today that he will use the following formula to kill his taller annual ryegrass on his farm.  These rates are per acre…he uses Round-up(R) at a 2 QT rate and Basis(R) at the 0.5 oz. rate along with a non-ionic surfactant, AMS, and a pH reducer.
His other recommendation was to maybe look at Basis(R) + Balance(R) Pro with Round-up(R)  at full rates (again with AMS, and pH reducer).  Here is another helpful site from Purdue.
Like I said, Chris has an excellent track record of killing annual ryegrass.  E-mail me at dave@plantcovercrops.com if you want to contact Chris.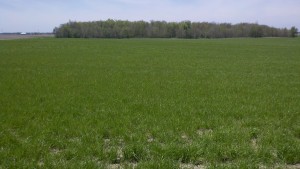 To quote a friend of mine…"the rain is falling, but the sky is not!"