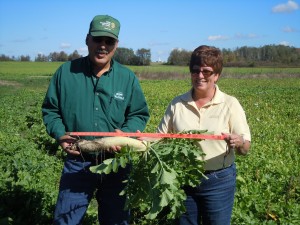 Over the past number of weeks I've noticed quite a difference in radishes growing in farmers fields.  Some are outstanding and consistent; deep and fairly large tubers (tuber girth seems to be related to fertility and age of stand).  In the thumb of Michigan I saw over 300 acres of fields planted at 10#/acre that were just what the farmer wanted.  We found tubers 8-12" deep and we could not really find the real bottom of the roots as we broke them off in the soil.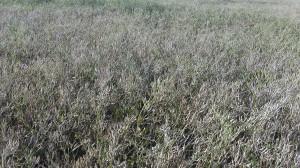 While some varieties have good tubers in other instances I have found real problems.  In a field in NE Indiana a SWCD director brought some radishes from a farmer's field that did not look good.  The farmers planted around 100 acres of a VNS radish from North Dakota (labeled as "Daikon") and he was not happy.  I don't blame him…look at the photo below.
What makes this story even more interesting is that the VNS radish (VNS = Variety Not Stated) from North Dakota cost the farmer 30-40 cents less per pound than the GroundHog.  Unfortunately, he's unhappy because his radishes are not performing.  I'll say it again…"VNS could equal Very Nasty Seed".  The farmer saved $3-4/acre and is frustrated.  Two things…and this is for dealers and producers…#1 –Choose to buy from a trustworthy source #2) IF there is a big price savings…beware there is a reason for that spread!  Saving 15-20% on seed is HUGE!  If there is that much saving ask questions and get good answers!