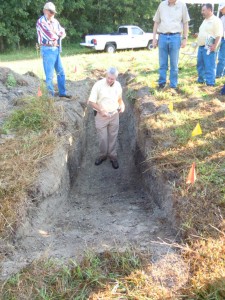 In Mid-August I had the honor of speaking at a cover crop field day in Tipton County, Indiana.  At that field day there were some root pits dug that were quite interesting.  One of the pits was in an area where some top soil had been removed and fill dirt had been put back over the top of where soil had been removed.  Now that area is a "grassy pasture-like" area.  What surprised me was that the roots on the forage grasses were not particularly deep into the soil profile – only 10-15″.  I found them to be much more shallow rooted than expected.
In the other pit the producer had been no-till farming for a number of years and for the past six years using cover crops as well.  In this pit we found soybean roots much deeper than forage grass roots!  See the video here. The cover crop used last year in the field was winter cereal rye.  The soybean crop looked excellent in a very dry time of the year.
Observations from the pit in the soybean field:
soybean roots around 40 inches deep
large nodules approximately 20 inches deep
dense, thick, healthy soybean roots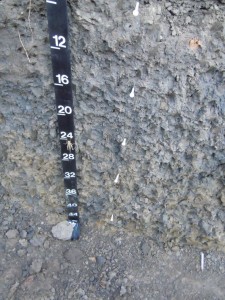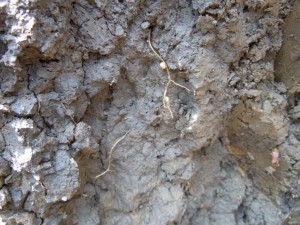 Obviously we don't know the yield on the soybeans yet but they sure podded up well and I'm confident went through the drought better than shallower rooted soybeans.