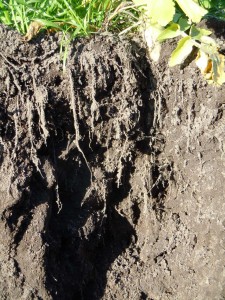 I know that there are lots of cover crop field days that I do not list on this site.
However, I usually try to get cover crop field days listed on the Midwest Cover Crops Council website when I hear about them.   However, I have four field days that I believe will be attractive to all of my Midwestern cover crop friends.
The first "event" listed below is actually 2 events on back to back days held in neighboring counties.
Jasper/Newton County Cover Crop Field Days – 2 days of cover crop tours put on by Newton and Jasper Counties in Indiana (NW IN). Dan Perkins and Rose Morgan are two of the top SWCD people for putting on field days in Indiana and there will be lots to see.
TNT Farm – Terry Taylor (TNT Farm) is an avid cover cropper and an excellent farmer in down-state Illinois.  Terry is hosting a field day on his farm on November 7, 2012 that promises to be an excellent opportunity to learn about using cover crops on heavier soils.
Dudley Smith Farm Beef Cow-Calf Field Day – I will be speaking on The Role of Cover Crops in a Grazing Program in Pana, IL on November 8, 2012.  I will be working that day with the "best of the best," Ed Ballard, who introduced me to cover crops and extending the grazing season while using cover crops. I have spoken in years past at this event and U of I always puts on a great meeting that is very valuable to beef cattle producers.
As harvest winds down it is time to plan for 2013.  Please consider attending one of these four meetings to learn more about how cover crops can impact your farming operation.