Over the past few years farmers and ground applicators have been looking for new and innovative ways to apply cover crops.  One of the more successful ways has been with a high-boy or Hagie sprayer/spreader.  My friend Craig Simon from NE Indiana had a mixture of Oats and Rye and Turnips applied this way by Andy Ambriole in August 2012.
Craig intends to graze his cover crops as he has done for the past 3 years.  Each year Craig has had his best corn and soybeans in the areas where he had cover crops the previous year.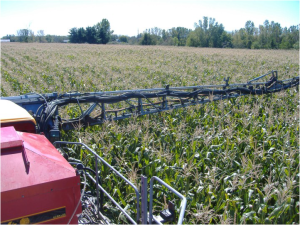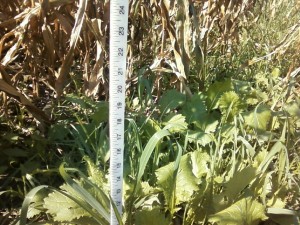 The advantages of using a high-boy type applicator:
More exact placement of seed than aerial application
Little if any risk of any drift into neighboring fields
Faster application than drilling
Earlier application than drilling
Cost effective compared to aerial application and drilling
Disadvantages of using a high-boy type applicator:
Less acres covered in a day compared to aerial application
Soil conditions must be right to avoid compaction
Does not incorporate the seed like a drill
While there are few "disadvantages" this practice should increase in popularity over the next few years as more and more acres are covered with cover crops.