It's May 11, 2011 and 4%, that's right, FOUR PERCENT of the corn is planted in Indiana.  Illinois is at 34%, Michigan at 8%, Ohio is at TWO percent, and Iowa is at 69%.  This compares to approximately 80% of the corn planted in these states in 2010.  The 2006-2010 average for corn planting in those states is ~59%.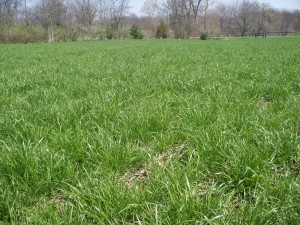 However,  the interest in cover crops is very strong with many producers wanting to use cover crops after corn and soybeans.  So should we give up and wait for a "normal year"? I certainly hope that is not the case.  As we saw in the fall of 2010, late emerging cover crops actually had some pretty good results as we observed the fields in the late winter/early spring 2011.
So what is the answer to our dilemma?  I think we have some very good options:
Consider aerial application as an excellent choice this fall.
Be patient!  DO NOT plant the cover crops into green corn or soybeans. Cover crops that came up late last year after a pretty severe drought still came up to look beautiful this winter/spring.
Consider using more shade tolerant species for cover crops (Annual Ryegrass, Cereal Winter Rye, Crimson Clover, etc.) – IF you need them.
Don't give up hope that you can have very good success. PLAN TO HAVE SUCCESS!
Look at this video for a view of how well a cover crop mixture performed despite very little moisture in the fall of 2010 (video taken late April 2011).