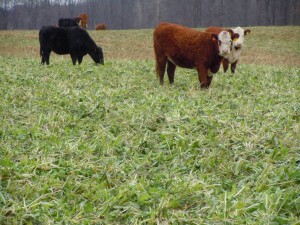 In early December, 2011 I visited two farms in Kosciusko County Indiana (NE IN) where producers had intentionally planted cover crops after their wheat was harvested for the purpose of grazing cattle and improving soil.  One of the producers planted a mixture that was featured in this blog.  His Oats/Cereal Rye/Turnip mixture looked beautiful and it appears he will have more feed than he needs to get the cattle through December without feeding much hay!  Only a severe ice storm or exceptionally wet soil would seem to prevent that from happening.  Here is a video my wife and I took from this field.
Just down the road a different farmer planted a different mixture.  His pastures were decimated by the summer drought and over grazing.  Frankly I would not have recommended the mixture he planted…only because I was not sure how the cattle would graze cover crop radishes.  His mixture was 3# Appin turnips and 3# of GroundHog cover crop radishes.  That was all…When my new farmer friend drove me by the field I did not see the cattle…and even then I was noticing a lot of bare soil (the area between all of the brassicas) and was longing to see oats or some grass species out in the field with the brassicas.  Then we found the gent that planted the field.  He was ecstatic!  The cattle were grazing both the turnips and radishes very well. His cattle had great body condition and his feed bill was way down.  My only recommendation was that he feed dry hay to the cattle along with the brassicas so that they would not end up with some health issues (acidosis, foundering, etc…).  Brassicas should not make up more than 30-35% of the diet for cattle and he was at over 80%.  Watch a video from this field.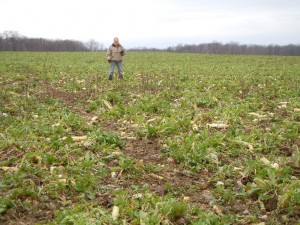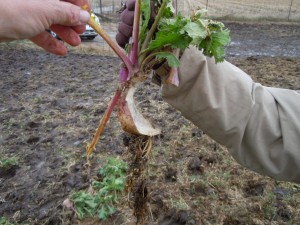 It is very important to include fiber in the diet of the cattle when grazing turnips and radishes.  The forage quality of the brassica is too high for the cattle to have a healthy rumen. If the producer that planted only the brassicas had fed straw or lower quality dry grass hay the cattle would have been healthier.  I believe that is why the cattle were eating so many bulbs…they needed more fiber.