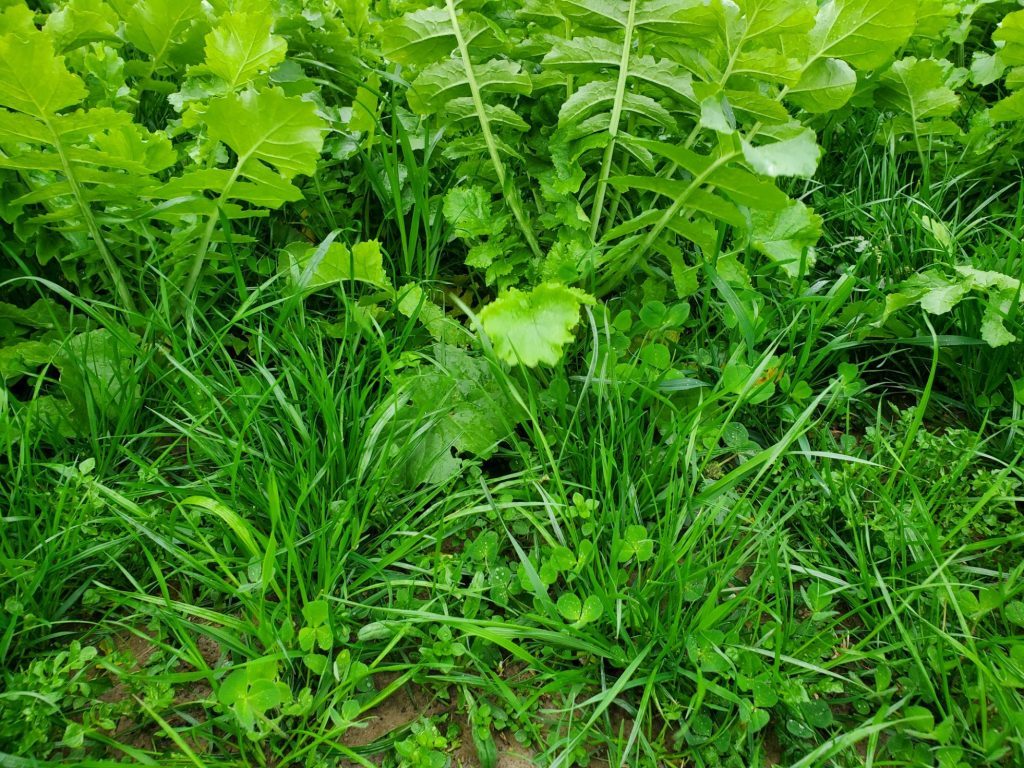 The mix pictured above is Nutribuilder Mix. It's a three way mix of annual ryegrass, clover, and radishes.
This field was planted on August 18 at 25 pounds per acre. The included pictures were taken on October 30. The plan is to plant this field into corn next year.
The growth in this field shows the importance of a timely planting date. This is especially important for the radishes, since they will winterkill – and the farmer will want maximum benefit from them before they die.
Benefits
Each component in this mix will enhance the performance of the soil and improve the productivity of the following year's crop. And of course, the long-term benefits associated with the ongoing use of cover crops are hard to quantify.
But what are some specific things to expect from each of these components?
Annual ryegrass
Annual ryegrass provides one of the best cost-to-benefit ratios of any cover crop, maybe the best. It's inexpensive, versatile in application (aerial, broadcast, drill), and provides tremendous value to the soil. Annual ryegrass breaks up compaction, allowing better water infiltration. The depth of the roots provide access to parts of the soil previously unavailable to the cash crop. The fibrous root system near the soil surface helps prevent erosion. Annual ryegrass is an excellent scavenger of leftover nutrients, holding them for use later in the growing season.
Crimson clover
Crimson clover is an excellent choice for building nutrition into the soil. If you're looking to build nitrogen for your cash crop, crimson clover provides that service. Since it will survive the winter, it will provide biomass as well. The crimson clover will also help the annual ryegrass and radishes to grow bigger and provide more benefit to the soil as well, as demonstrated by this video.
Radish
Cover crop radishes have been the super stars of the cover crop world. Their benefits have been noted over the years. They:
scavenge nutrients from the soil (especially nitrogen).
penetrate the soil, therefore reducing compaction.
enhance soil percolation and aeration.
provide an excellent environment for earthworms.
provide deer and cattle an excellent wintertime feed.
die in the winter.
Conclusion
Taking all of this information into consideration, this type of mix is an excellent choice to plant in the fall before planting corn the following spring. Keep in mind that only the radish will winterkill, so you will need a plan to terminate both the annual ryegrass and the crimson clover.