State and local Soil and Water Conservation Districts have been a wonderful partner over the past 4 years in helping to educate farmers about the value of cover crops in their local area.  Over the past four years Indiana SWCDs have planted or overseen over 300 cover crop test plots.  Recently the Noble County (Indiana) Soil and Water Conservation District held a field day where they did a great job of educating area farmers on the benefits and applications of cover crops for their county.
First, they put together a cover crop information sheet showing the various seeds and mixes that can be planted, as well as the seeding dates for their area.
Second, they provide a list of local suppliers for seed, herbicides, and applicators.
But most impressive is the test plot they put out. Working with a local farmer, they seeded 9 different plots, along with a "check" plot, which had no cover. They purchased the seed from Ag Plus, which is located in Columbia City, IN.
Below are pictures from the plot, which were taken on October 11, 2012. The plot was seeded at 3/4 inch using a drill – on August 24. Stacey McGinnis, from Noble County SWCD noted that quite a lot of volunteer wheat came back up and the ground was fairly compacted (soil is a silty clay loam). On Monday, October 8, there was a killing frost.
When asked what the goal of the test plots were, Stacey commented "to get farmers who are on the fence about cover crops to begin to experiment" and "to get farmers who are using some cover crops to begin to try some of the mixes, which will give them more benefit."
Below are the pictures from the plot, along with a brief explanation of some of the benefits below each picture. You can click on the picture to see a larger version. Also, hover your mouse over the picture for a quick description.
Winter Rye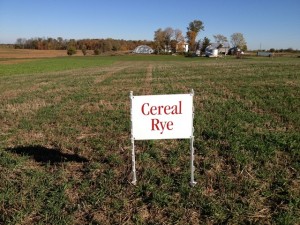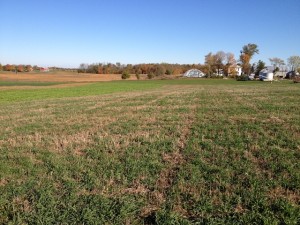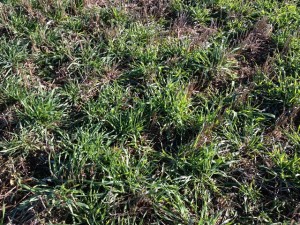 Winter Rye:
can be established later than many other cover crops
will overwinter
works extremely well when the next crop is soybeans
Winter Rye & Radish Mix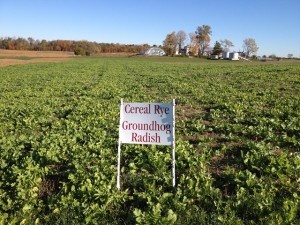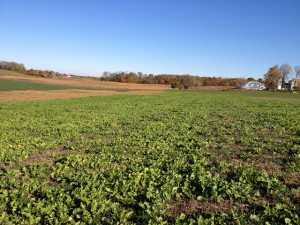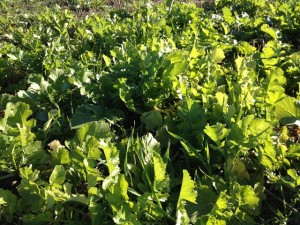 With winter rye and radish mixed together, you get:
all the advantages listed above for winter rye, plus the radish will:
scavenge left-over nutrients
break up compaction
invite quite a few earthworms to the party
Austrian Winter Peas & Radish Mix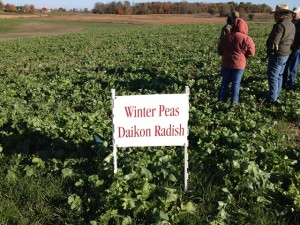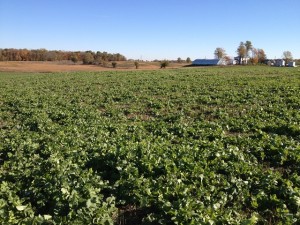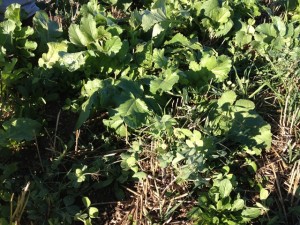 Along with the advantages of the radish, Austrian winter peas produce nitrogen for the next crop. So, by mixing these two together, you have a nitrogen producing and nitrogen scavenging environment all mixed into one.
Oats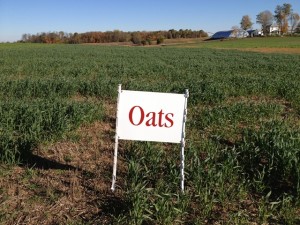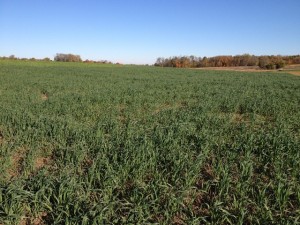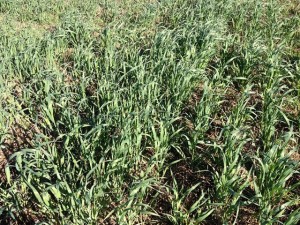 Oats are great for several reasons. Oats:
scavenge nitrogen from the soil.
have a deep and fibrous root mass.
are excellent for forage.
winter kill very easily.
work very well with other cover crops in mixes.
Oats & Winter Rye & Turnips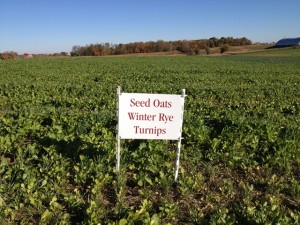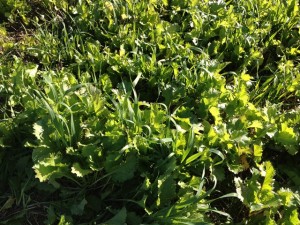 This mixture of oats, winter rye, and turnips has several advantages for livestock producers. The oats produce a tremendous amount of forage for the fall, while the winter rye will over-winter and give you more forage for the spring. The turnips adds a lot of protein for the livestock, but are also very capable nitrogen scavengers themselves.
Buckwheat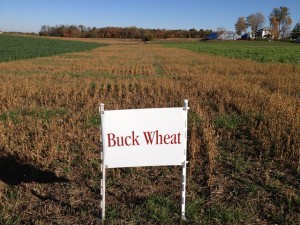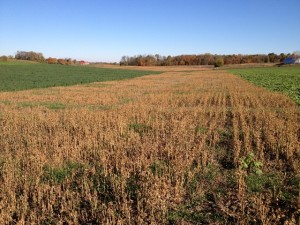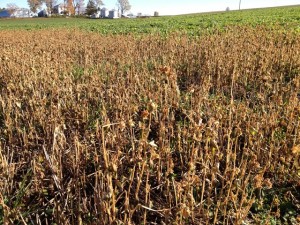 Buckwheat is a useful green manure crop. It can produce significant amounts of dry matter. Up to 3 tons of dry matter per acre has been obtained after 6 to 8 weeks of growth on relatively unproductive land under Pennsylvania conditions. When plowed under, the plant material decays rapidly, making nitrogen and mineral constituents available for the succeeding crop. The resulting humus improves physical condition and moisture-holding capacity of soil. Where a second crop of green manure is desired, rye may be drilled into the buckwheat stubble and plowed under in the spring. The rye frequently can be drilled into the buckwheat stubble without previous disking or plowing. Buckwheat green manure may also fit into fairly tight rotations such as when a crop is harvested prior to mid-July and a succeeding crop is not scheduled until fall. If volunteer buckwheat is harmful in the succeeding crop, then the green manure crop of buckwheat should be destroyed before a large number of seeds mature.
http://www.hort.purdue.edu/newcrop/afcm/buckwheat.html
As noted above, there was a killing frost on this plot on Monday, October 8. However, that is not what killed this buckwheat. This buckwheat plot was killed 3 weeks prior with a light frost. Notice also that the oats and radishes look just fine, even after the first killing frost.
Annual Ryegrass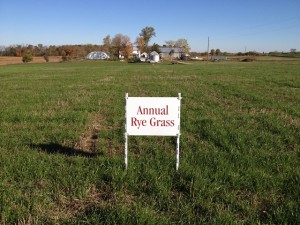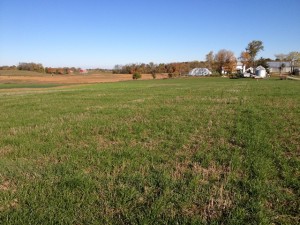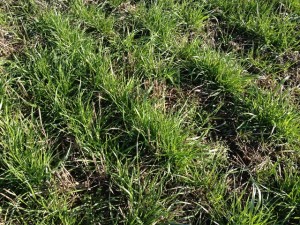 Annual ryegrass is:
deep rooted and helps mine minerals from deep in the soil profile.
an excellent erosion control crop.
a luxury consumer of nitrogen and tremendous scavenger of N.
easily aerial applied into corn and soybeans.
an excellent forage crop.
Annual Ryegrass & Crimson Clover & Radish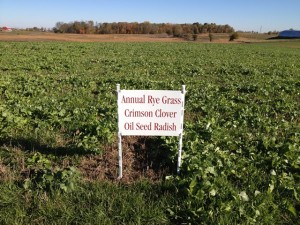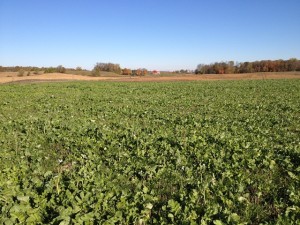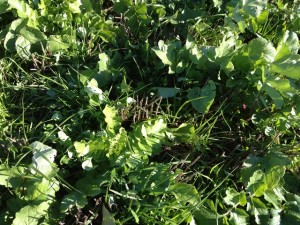 This is a cover crop mix on steroids. Two excellent compaction breakers are mixed with the nitrogen production of the crimson clover.
No Cover Crop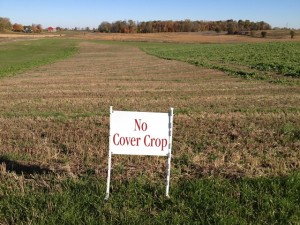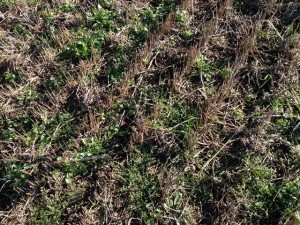 As you can see, where there is no cover crop, weeds are starting to take root.
Thanks to Stacey McGinnis at the Noble County SWCD for this excellent cover crop work. Thanks to Mark Perry from Beck's Hybrids for sending these pictures to me and keeping me up to speed on the cover crop work going on in Noble County. And thanks to Jim Eiler from Ag Plus in Columbia City for hustling some last minute seed over to this site so they could get everything planted at the same time.
If you've not had a chance to get out to a cover crop field day or a cover crop test plot, and there is one in your area, try to schedule a time to take a look. Let the experimenting begin.