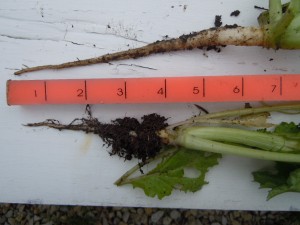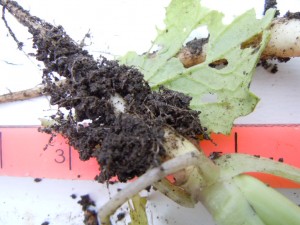 The cover crop radishes and forage turnips that I accidentally planted in my wife's wildflower garden just over 4 weeks ago lets me make some observations about the differences between the radish and turnip roots. 
The radishes have a fairly "hairless" root that has very quickly reached 7 " deep. 
On the other hand, the turnips are only 4 inches deep. 
So which one is better for the soil?  Look at the fibrous roots on the turnip.  While the turnip is not as deep, I'd estimate it has more root surface area than the radish!
Unfortunately (or fortunately) I planted several radishes and turnips in the front flower garden (sorry honey).  But that allows all of us to keep tabs on the differences as the summer progresses!