Welcome to Plant Cover Crops.
This site is dedicated to learning about the value that cover crops bring to production agriculture. Check out the category listings to the right to scan for topics of interest.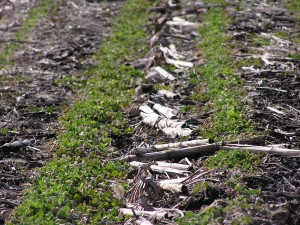 If you want to scan the latest blog posts, just click on the "cover crop blog" page link above.
I've loaded this site up with a lot of videos. You can check them all out at the covercropdave You Tube channel.
If you want to receive regular updates to my newsletter, fill out the form to the right. I usually write about one per month. Your email is safe with me and I won't spam you.
So what about cover crops?
Farmers often ask me "why" they should consider planting cover crops after harvest. I have listed a number of reasons below.
Cover crops:
Improve soil health
Improve yield potential over time
Improve weed control of winter annuals
Reduce erosion
Increase earthworm populations
Improve soil microbiology
Build Soil Organic Matter
Produce and scavenge nutrients
Help you with manure management
Provide excellent grazing opportunities
Cover crop roots, along with the additional earthworms:
Increase soil organic matter
Increase soil porosity
Increase soil aeration
Increase "channels" for future row crop roots to follow
Reduce compaction
Increase nutrient recycling