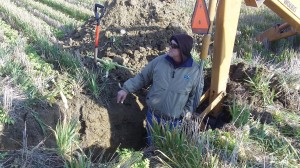 Watch your mailbox for an invitation from your local SWCD, NRCS, or extension office for dates for cover crop meetings!  Over the next 6 weeks I am speaking at a number of meetings on cover crops. 
One of the highlights includes the CTC meetings in Ada, OH on February 24-25.  The "cover crop emphasis day" is on Thursday, February 24, and the itinerary is filled with outstanding speakers.  I am blessed to be there speaking on the topic: "Using Legumes for Cover Crops."
Also AgriFlite, an aerial applicator from northern Indiana, will be presenting (they have done some awesome work on putting the science alongside the art of flying on cover crops).  See  the blog post about their work in 2010.
Listed below are locations of cover crop meetings that I am aware of.  * means that I am speaking at the event.  Please e-mail me at dave@plantcovercrops.com for further details.
Feb 16- Paulding, OH * 8 AM-2:30 PM
Feb 16 – Sullivan, OH *  5:30-9 PM
Feb 16- Jasper County, IN 10 AM-2 PM
Feb 17 – Loudonville, OH * 10 AM-2:30 PM
Feb 22 – Larwill, IN * 5:30-8 PM
Feb 24 – Ada, OH * 8 AM-7:30 PM
March 1 – Berne, IN * 4-9 PM
March 2-Webberville, MI* 9 AM-1 PM (mainly discussing forages)
March 3 – Napoleon, MI * 9 AM-1 PM (mainly discussing forages)
March 8 – Montpelier, OH * TBD
March 9 – Woodville, OH * 6:15-8 PM
March 10 – Bowling Green, OH * 9 AM-3 PM
March 11 – Logansport, IN * 10AM-2:30 PM
March 14 – Howe, IN * TBD
March 15 – Howe, IN * TBD
March 16 – South Bend, IN –
March 31 – Jackson County IN *  – TBD
I'm sure there are several more across the country that are going on.  If you know of others let me know and I'll get them posted!